15 East Anapamu Street, Santa Barbara, CA   93101      805-962-3321
Monday – Saturday 10 AM – 6 PM Sundays 11 AM – 5 PM

Noteworthy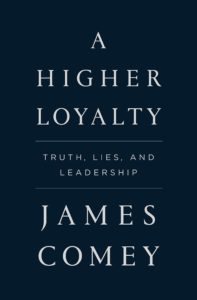 A Higher Loyalty: Truth, Lies, and Leadership,  former FBI director James Comey's book on President Trump, goes on sale Tuesday, April 17.
---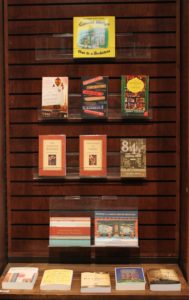 I was standing at the new paperback fiction table with a customer, and we were discussing the success of The Little Paris Bookshop. I noted that Broadway did shows about Broadway, so bookstores have books about bookstores. And I thought of how many we actually have in stock, so I made this little display.
---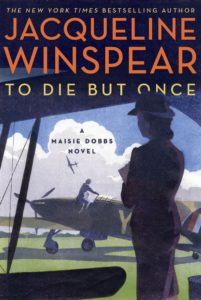 The latest Maisie Dobbs book goes on sale today. And – –
Jacqueline Winspear will be at the Book Den to discuss and sign copies of her new book, To Die but Once. Save the date! Saturday, May 12th ath 3:00 pm.
During the months following Britain's declaration of war on Germany, Maisie Dobbs investigates the disappearance of a young apprentice working on a hush-hush government contract. Maisie's investigation leads her from the countryside of rural Hampshire to the web of wartime opportunism exploited by one of the London underworld's most powerful men.
The Book Den celebrates 85 years in Santa Barbara
On Monday, February 20th in 1933, the Book Den opened it's doors at 15 East Anapamu Street in Santa Barbara, following a move from Oakland. Read the history of Santa Barbara years of one of the oldest bookstores in California below.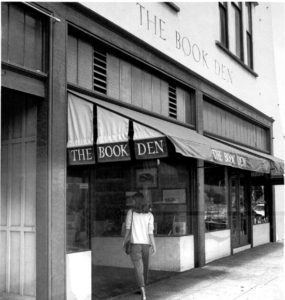 Book Den Marks 85 Remarkable Years in Business
Santa Barbara, Calif. – One morning in late 1932, Max Clemens Richter stepped off a train at the Santa Barbara station and began walking up State Street. He knew the city well. His family owned property in Mission Canyon and he had lived there from age 3 to 17. He wanted to return, but first he needed to find a new home for the bookstore he had been running in Oakland, Calif., for the past six years.
When he reached Anapamu Street, he turned right and found a vacant store on the ground floor of the Odd Fellows' building. It was a reasonable size and located across the street from an institution likely to attract customers – the Public Library. Richter rented the space, returned to Oakland and shipped some 40 tons of books and magazines to Santa Barbara by train.
It turned out to be a fortuitous decision. Richter's enterprise, the Book Den, has endured longer than any retail business in downtown Santa Barbara. That's no small feat considering retail trends and competition the store has faced over the decades.
When the Book Den opened Feb. 20, 1933, a Santa Barbara News-Press article described shelves stocked with "volumes treating with all branches of literature, science, first editions, books on philosophy, sociology, natural sciences, art, and fiction." Today's patrons find little has changed.
Since its founding in Oakland in 1902, The Book Den has changed hands four times. Eric Kelley, the current owner, bought it in 1979. In 1990, he moved it next door and then back to its original location in 2005. The process of cataloging and digitizing the inventory began in the late 1980s. Online sales started in 1999 and bookden.com debuted in 2001.
Over time, Kelley has replaced the fixtures and furnishings. The last remaining piece from Oakland, a green wooden table, is in storage. However, the essential character of the space remains warm and inviting. After a major makeover, a regular customer said the store "looks the same, only better."
Kelley is often asked what makes the store's longevity possible. He cites Richter's vision and several other factors, including having a staff of booksellers who know and love books. The current staff of four has a combined 130 years in book sales.
In addition, the off-State location is more affordable than retail space with State Street frontage, and there are two nearby parking garages.
Most importantly, he said, the Book Den has a loyal following. Many customers who have visited the store over the years return with their friends and family members.
Kelley said the business has thrived by adapting to changes in bookselling and retail, in general. For example, the Book Den met competition with chain bookstores by acquiring used books in like-new condition that could be sold for less than new books at discount prices. When Borders and Barnes & Noble closed their downtown locations within a week of each other, it became possible to build a evenly balanced market for both new and gently used books and adjust title selections for in-person and online sales.
The death of the book, and corresponding demise of book stores, has been predicted for decades. But authors keep writing. Publishers bring out as many new books as ever, and more independent bookstores are opening than closing.
Readers still love the experience of browsing through a real bookstore, and the Book Den will remain open to meet the demand, Kelley said.