15 East Anapamu Street, Santa Barbara, CA   93101      805-962-3321
Monday – Saturday 10 AM – 6 PM Sundays 11 AM – 5 PM

New this week
I'd Die For You is a collection of the last remaining unpublished and uncollected short stories by F. Scott Fitzgerald, edited by Anne Margaret Daniel. Fitzgerald did not design the stories in I'd Die For You as a collection. Most were submitted individually to major magazines during the 1930s and accepted for publication during Fitzgerald's lifetime, but were never printed.
People say Beartown is finished. The tiny community nestled deep in the forest, it is slowly losing ground to the ever encroaching trees. But down by the lake stands an old ice rink. And in that ice rink is the reason people in Beartown believe tomorrow will be better than today. Their junior ice hockey team is about to compete in the national semi-finals, and they actually have a shot at winning.
This book is brilliant and addictively readable. It's also mandatory reading for anyone who loves history and for anyone who claims to have a capacity for forecasting. It'll probably make them angry because it turns so many sacred assumptions upside down–but that's what the future does.  –Douglas Coupland
A beautifully written and richly evocative examination of life, love, the ravages of war, and the different ways people react to unthinkable situations-not to mention the terrible and mounting toll of keeping secrets.
How far will you go to achieve a dream? That's the question a celebrated coach poses to Katie and Eric Knox after he sees their daughter Devon, a gymnastics prodigy and Olympic hopeful, compete. For the Knoxes there are no limits–until a violent death rocks their close-knit gymnastics community and everything they have worked so hard for is suddenly at risk.
Noteworthy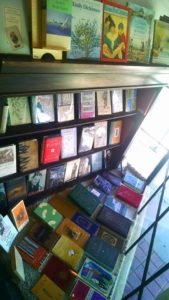 Check out Erin's great window for National Poetry Month.  For a list of the books on display, click below:
(more…)
---
Colson Whitehead won the Fiction prize for The Underground Railroad: A Novel.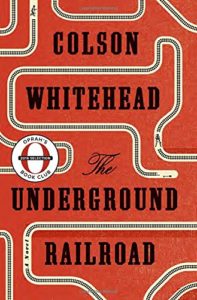 Non-fiction prize went to Matthew Desmond, for his book Evicted: Poverty and Profit in the American City.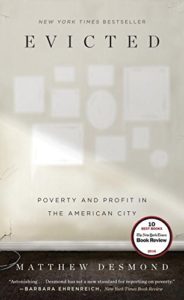 Other winners in Arts and Letters are:
Drama: Sweat, by Lynn Nottage
History: Blood in the Water: The Attica Prison Uprising of 1971, by Heather Ann Thompson
Biography: The Return: Fathers, Sons and the Land in Between, by Hisham Matar
Poetry: Olio, by Tyehimba Jess
Music: Angel's Bone, by Du Yun
---