COVID-19
The Covid-19 virus shouldn't stop you from reading!.
For the time being, the Book Den is closed to the public. We will continue to fill orders received from our website and other channels. We are offering free shipping to customers from Carpinteria to Goleta with a minimum order of $20.
This website lists every book in stock. You may place an order directly at www.bookden.com, or you can send an email to orders@bookden.com. Please include the title and author and the stock number for each book, and a telephone number where we can reach you for payment information. Do not include a credit card number in the email.
We also continue to buy books. Please send an email with a phone number and we will call you to make arrangements.
The New Paperback Fiction Tables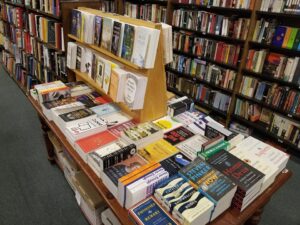 The New Paperback Non-Fiction Table