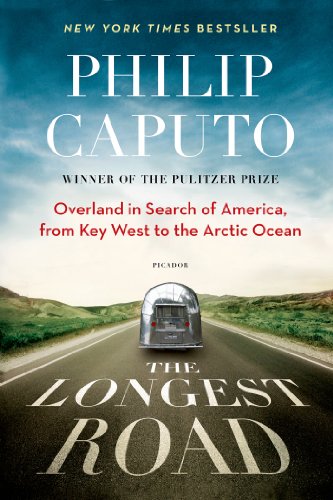 The Longest Road: : Overland in Search of America, from Key West to the Arctic Ocean by Philip Caputo.
Standing on a wind-scoured island off the Alaskan coast, Philip Caputo marveled that its Inupiat Eskimo schoolchildren pledge allegiance to the same flag as the children of Cuban immigrants in Key West, six thousand miles away. And a question began to take shape: How does the United States, peopled by every race on earth, remain united? Caputo resolved that one day he'd drive from the nation's southernmost point to the northernmost point reachable by road, talking to Americans about their lives and asking how they would answer his question.
In Forty-one False Starts, Janet Malcolm brings together essays published over the course of several decades (largely in "The New Yorker "and "The New York""Review of Books") that reflect her preoccupation with artists and their work. Her subjects are painters, photographers, writers, and critics. She explores Bloomsbury's obsessive desire to create things visual "and "literary; the "passionate collaborations" behind Edward Weston's nudes; and the character of the German art photographer Thomas Struth, who is "haunted by the Nazi past," yet whose photographs have "a lightness of spirit." In "The Woman Who Hated Women," Malcolm delves beneath the "onyx surface" of Edith Wharton's fiction, while in "Advanced Placement" she relishes the black comedy of the Gossip Girl novels of Cecily von Zeigesar. In "Salinger's Cigarettes," Malcolm writes that "the pettiness, vulgarity, banality, and vanity that few of us are free of, and thus can tolerate in others, are like ragweed for Salinger's helplessly uncontaminated heroes and heroines." "Over and over," as Ian Frazier writes in his introduction, "she has demonstrated that nonfiction–a book of reporting, an article in a magazine, something we see every day–can rise to the highest level of literature."
Unlearning with Hannah Arendt by Marie Luise Knott

Anchoring its discussion in the themes of translation, forgiveness, dramatization, and even laughter, Unlearning with Hannah Arendt explores the ways in which this iconic political theorist "unlearned" recognized trends and patterns–both philosophical and cultural–to establish a theoretical praxis all her own. Through an analysis of the social context and intellectual influences–Karl Jaspers, Walter Benjamin, and Martin Heidegger–that helped shape Arendt's process, Knott has formed a historically engaged and incisive contribution to Arendt's legacy.