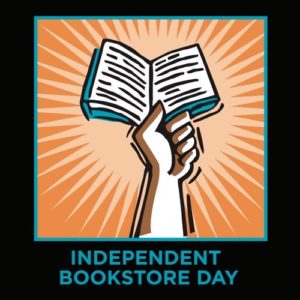 In January of 2011, downtown Santa Barbara's two large chain bookstores closed. In many communities around the country, this would have been a disaster, leaving book lovers to sift through the one hundred or so titles sold at the local Walmart or Costco. Santa Barbara was different. It had a large independent new bookstore, a range of used and rare bookstores, and a century old used bookstore already expanding into new books.
In the years since, as the chains have been closing stores, the number of new independent book stores nationally has been increasing. This is what Independent Bookstore Day celebrates. We at the Book Den want to give a shout out to Chaucer's Bookstore, the largest bookstore between Los Angeles and San Francisco. And to Randall House and Ralph Sipper Books, two world class rare book dealers. And to Mesa Bookstore, the best 200 square foot bookstore in the world. And to Lost Horizon Bookstore, our friendly rivals on Anacapa Street.
Follow the link below for a list of all of the Independent Bookstores in Santa Barbara. Celebrate Independent Bookstore Day by visiting one of these booksellers today, or all of them!
The Book Den
15 East Anapamu St
Santa Barbara, CA
(805)962-3321
New and used books, established 1902
Chaucer's Bookstore
3321 State Street
Santa Barbara CA
(805) 682-6787
New books, established 1974
Lost Horizon Bookstore
703 Anacapa St.
Santa Barbara, CA
(805) 962-4606
Used and antiquarian books, established 1983
Mesa Bookstore
1838 Cliff Drive
Santa Barbara, CA
(805) 966-3725.
Used books, established 1991
Paperback Alley
5840 Hollister Ave
Goleta, CA
(805) 967-1051
Used books, established 1978
Ralph Sipper Books
10 West Michtorena St
Santa Barbara, CA
Literary first editions, established 1970
Randall House Rare Books
835 Laguna St
Santa Barbara, CA
Antiquarian books, established 1975
(805) 963-1909
Tecolote Book Shop
1470 East Valley Road
Santa Barbara, CA
New books, established 1925