What happens when a loved one is dying or dies? When is the right time to get their passwords? Is it really that bad you keep the extra morphine in your refrigerator?
And that is just the first paragraph of the dust jacket flap of Laurie Kilmartin's new book Dead People Suck: A Guide for Survivors of the Newly Departed.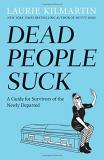 $21.99
Sold out
Hardcover, New
Humor
---
Laurie Kilmartin will be appearing in Kimmie Dee's NO INDOOR VOICES show hosted by Josue Figueroa at Brasil Arts Cafe, 1230 State Street, on Saturday, April 14th, at 7:30pm.
Laurie Kilmartin is the bestselling author of Sh*tty Mom and an Emmy-nominated writer for CONAN. Her hour-long special 45 Jokes About My Dead Dad was named one of the Best Comedy Specials of 2016 by Decider, Paste, and Vulture. As a stand-up comedian, she has appeared on CONAN, Last Comic Standing, Jimmy Kimmel Live, and Comedy Central.
The Book Den will have copies of Dead People Suck available for purchase and signing.